WE ARE SAFE TO VISIT!
We follow the industry association Visita's recommendations and are "Safe to Visit"
Here you can read more about what that entails.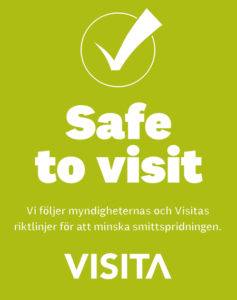 All Stockholm Meeting Selections hotels and restaurants are open as usual with a focus on the well-being of our guests and staff as the absolute highest priority. Below you will find a summary of concrete changes in our routines to minimize the spread of infection and our measures and opportunities for separate building or dining rooms.
We offer wonderful outdoor environments as well as free parking for those who drive. If you need help booking your own bus for your conference, we would be happy to help.
Accommodation in own building: All hotel rooms are located adjacent to the main building.
Conference in own house: All conference rooms are in the main building, however, building is spread out in different sections somewhat away from each other. We offer guests to only stay in the conference room including having their meals there if desired.
Meals in own dining room: We offer served lunch and breakfast for those customers who wish this.
Meals without buffet: We offer served lunch and breakfast for those customers who wish this.
Concrete changes in routines to minimize the spread of infection:
• We have extended cleaning routines of public areas with a focus on doorknobs, handles, buttons, etc.
• We have hand sanitizer in all guest and staff toilets as well as in our reception. Gloves are available for guests during their stay.
• All serving staff wear gloves.
• No raw materials are saved / recycled.
• We collect all pens and spray them after use and store them outside the meeting rooms.
Writing pads are stored outside the meeting rooms.
• Upon guest's arrival, we present pens and pads in the room and after the conference, we collect the pens for spraying. All pads are placed in a box that is dated after the meeting (the blocks rest for at least 3 days before being used again).
• All remote controls and other technical equipment are sprayed between all bookings.
Stricter rules for employees and suppliers: We apply the Swedish Public Health Agency's guidelines. Checking that no staff with us have visited risk areas has been implemented. All staff are advised to stay at home or be sent home in case of any signs of illness.
MORE THAN 50 ARE WELCOME!
We follow the guidelines of the public health authority and the trade association VISITA, which in our spacious environment have no limit on the number of participants. Private conferences are not limited to a maximum of 50 people as they are not a public gathering or public event. Read more in VISITA's information booklet.
Talk to our conference specialists about your needs, and we will find a tailor-made and safe solution for you.
Contact us at e-mail meet@lovik.se, or call +46 8 506 180 91
Online booking
Enquiry
Online booking
If you are more then 20 people or have more questions? Please send a enquiry instead.
Enquiry
You can also book your conference online. Try our online booking here.